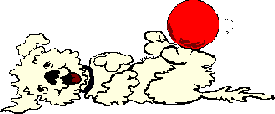 WELCOME TO CYBERPOODLE
Porcelain Poodle Figurines for the Poodle Collector
Why collect these thangs?
























REASON #1: They are so cute!
---

REASON #2: You have a poodle and know how strange and lovable they are.
---

REASON #3: You don't have a poodle but DO have very good taste.
---

REASON #4: Poodle figurines are wonderful example of kitsch.
---

REASON #5: When you see these cute little figurines at the flea markets, they "talk" to you!
---

REASON #6: They fill a void in your life (hmmm!)
---

REASON #7: They come in soothing pastel colors like pink, blue, yellow, grey, and white.
---

REASON #8: Just by looking at them a smile crosses your face :)
---
Please send an e-mail to DAVE ROUTH if any other reasons come to your mind. I'll post your reasons here and give you credit if you wish!
---


View the Poodle Gallery!

POODLE COLLECTOR RESOURCE BOOK AVAILABLE


A collector informed me that "A Price Guide to Poodle Collectibles of the 50's and 60's" by Elaine Butler is available. The book is available from L-W Book Sales (send me an e-mail for details) and is on order at AMAZON ONLINE BOOKSTORE. If anyone has this book, please let me know how it is.


SEND ME AN E-MAIL



Visit the family photo gallery (not recommended unless you have nothing to do!)


Follow the Poodle to these Links:

Orville Glockmyer's Banana--The Best of Vintage Camp and Kitsch


Brian's Home Page--information on model horse collecting and music


Shop Christy's--information about Lefton collectibles.


THROBBERS!!--dress up your web browser with these cool throbbers




© 1997 cyberpoodle@invalid_geocities.com
Dog with Ball image at top of page ©Kitty Roach

Click the icon
to see visitor stats for this webpage

---
Space for this Webpage courtesy of

Get your own free Webpage at invalid_XOOM.COM